PropExpert
Questions or comments?
Info@hydrocompinc.com
---
PropExpert is a propeller selection tool for the sizing and analysis of propellers for work boats and pleasure craft. It provides the tools needed for the proper selection of propulsion system components – engine, gear and propeller – and is the principal sizing tool of manufacturers and distributors.
Click here for the PropExpert product brochure with additional details and specifications, or here to view "Tell Me Why I Need PropExpert".
---
Features
Propeller sizing
Optimum D, P, BAR
Finds best gear ratio
Propeller system analysis
Proper material selection
Existing performance analysis
Used By
Propeller shops and vendors
Propeller builders
Engine and gear companies
Boat builders and designers
Marine surveyors
Propulsion system consultants
Applications
Inboard propellers
From 450 to 2500 mm (18″ to 100″)
Open props in flat-face and foil styles
Kaplan ducted (nozzle) styles
Supports high BAR and cupping
Motor yachts
Auxiliary-powered sailboats
Tugs and trawlers
Patrol and sport fishing boats
Inland river craft
---
Why do you need PropExpert? Watch to find out!

---
View details about PropExpert en Español. We have prepared a flyer in Portuguese specifically for propeller manufacturers. This one page document highlights our PropCad, PropExpert, and PropElements software packages. Click here to view this article.
---
Select and analyze with PropExpert…
PropExpert offers the most up-to-date techniques presented in an easy-to-use and powerful package. Anyone sizing commercial propellers – marine equipment salespeople, boat builders, designers – should use PropExpert. Find the optimal solution to:
Blade area
Reduction gear ratio and RPM
Analyze the effect of cup, shaft angle, and cavitation on thrust, power, and speed performance of the vessel!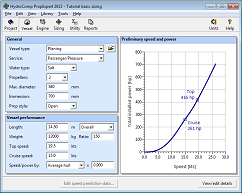 Enhance accuracy with sea-trial data…
The advance features in PropExpert allow you to dive deeper into the analysis. Use data from a prior trial or data of a similar vessel to anchor your model to real-world performance – or use PropExpert's speed-estimation formula when data is not available.
Streamline your projects and sizings…
You can use PropExpert's project library to manage your database of projects, vessels, propeller, and reduction gear models. Select component definitions from prior analysis or create new components on the fly!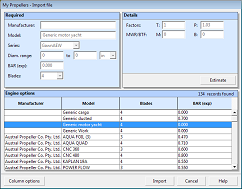 Impress with professional reports…
When you have completed your analysis, you can quickly generate summary reports. These professional reports featuring your logo can document the analysis for your clients. PropExpert is even capable of directly emailing reports to clients!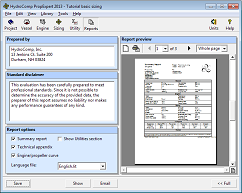 ---
Are you involved in propeller repair? Visit our sister company TrueProp Software!