PropCad
Questions or comments?
Info@hydrocompinc.com
---
PropCad is software for the geometric modeling of marine propellers. It provides tools for the automatic preparation of 2D design drawings, 3D views, construction data, calculation of geometric properties, and CAD/CAM file export.
Click here to view the PropCad product brochure with additional details and specifications.
---
Features
Integrated geometric designer
Traditional 2D design drawings
Multiple 3D views and graphics
Design wizards for rapid development
Build from scanned blade data
Supports any custom geometry
Classification thickness calculations
Weight and inertial properties
Construction data output
CAD/CAM file export
Used By
Propeller manufacturers
Hydrodynamic researchers
Propeller designers
Propeller shops and vendors
Propeller builders
Applications
New product development
Creation of derivative designs
Production or custom
Modeler for FEA or CFD
Analysis of existing geometry
Open or ducted styles
Ocean-going marine propellers
High-skew performance propellers
Model boat propellers
Aircraft props, jet impellers and fans
---
---
Increase productivity with PropCad…
As a user, you will be able to rapidly construct propeller CAD models and 2D drawings. For your designs, you will be able to:
Fully define 2D geometry for a completely custom propeller.
Use PropCad's design library to build a "standard" propeller .
Build design variants with your own distributions or templates.
Rebuild a propeller scan using the PropCad ScanConverter.
Import data from data files, including IDF or PFF.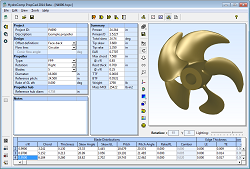 Ensure strength and quality…
You can analyze the strength and materials of your designs using the Classification Society rules. PropCad can automate thickness calculations for fixed pitch, controllable pitch, and nozzle propellers – as well as highly skewed and ice-class propellers! Supported classification societies include:
ABS – American Bearuea of Shipping
BV – Bureau Veritas
RINA – Registro Italiano Navale
LR – Llyod's Register (UK)
KR – Korean Register
CCS – Chinese Classification Society
NK – Nippon Kaiji Kyokai (Japan)
Baltic – Sweedish/Finish Rules
Additionally, Ice class designations are available for ABS Steel (A0,B0,C0,D0), BV/RINA (1D), and LR Ship rules (1D/1E), LR Naval rules (1AA, 1A, 1B, 1C) and Swedish/Finnish rules (1AA, 1A, 1B, 1C).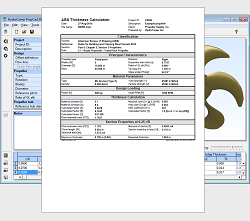 Utilize existing library designs for any geometry…
You can specify your propeller parameters and select the distributions from common library propellers to generate a complete set of propeller geometry data. The design library includes:
AU (MAU)
B-Series
BB-Series
Gawn and SK
Kaplan types A and C
Cleaver and Wedge
Symmetric thruster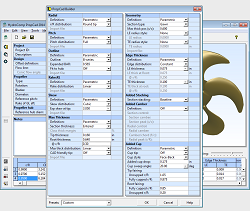 Communicate designs quickly and clearly…
Once your design is complete, you can automatically prepare and format 2D CAD drawings. PropCad allows users to easily format their CAD views, dimensions, title block, and reported parameters. Drawings can be saved as Adobe PDF, Microsoft Word RTF, or AutoCAD DXF. Additionally, you can supplement 2D CAD drawings with offset reports for 2D and 3D sections.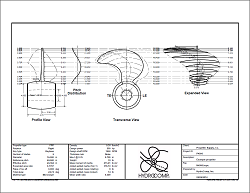 Transfer data for manufacture…
A propeller design from PropCad is suitable for further development, such as creating FEA, CFD, or CAD/CAM models. Once your design is finalized, PropCad supports data transfer to the most popular CAD packages. Supported packages include:
Rhinoceros
Solidworks
Creo and Pro/Engineer
Unigraphics NX
SurfCAM
MasterCAM
DELCAM and PowerShape
and more!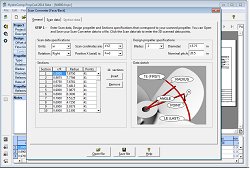 ---
What's new in PropCad?
---
Updated PropCad data-entry user-interface with theme support.
Improved native CAD compatibility for Rhino, Solidworks, Creo, Powershape, and more!
New IGES export format for universal CAD compatibility.
Hardware acceleration support for 3D rendering, including antialiasing.
3D rendering sections and mesh overlay display.
3D rendering of root fillet
Record high-resolution 3D animated videos and screenshots.
New summary table of geometric characteristics.
Interactive plotting, smoothing, and editing of radial distributions and 2D offsets.
Plotting of blade outline and blade profile for quickly editing blade shape.
Distribution editor for creating custom distribution files.
New PropCad template (hcpt) format.
New PropCad human-readable file (hcpc) format.
Updated Strength & Materials data entry interface.
Updated all Classification Society rules to latest 2014 rules.
Reference selection for Naval rule variants.
Improved Classification Reports documenting intermediate calculations.
User-control of which specific rule variant to use for a given (FPP, CPP, ducted).
Newly added NK and Baltic (Swedish-Finish) classification societies.
Ice-class and highly-skewed propeller rules for all society rules.
Improved PropCad Builder wizard data entry interface
Single-click, preconfigured propeller templates for Gawn, Bseries, Kaplan and other common propeller styles.
CAD-friendly tip option for modifying tip geometry to improve lofting during export.
Separate control of r/R distribution from Sections definition.
Dimensional and fully faired edge radius for leading and trailing edges.
Parametric control of leading and trailing edge thicknesses and distributions.
Added Stacking options for control of section stacking about the generating line.
Improved performance for parametrically adding/removing camber and cup.
Full user-control of radial camber distribution and radial peak camber chordwise position.
Full user-control of cup drop.
New cup options including face-only cup, and cup around tip.
Support for user-created reference distributions.
New Hub data entry interface with Hub-shape presets
Generic and Cylinder hub shapes for easy creation of representative hubs.
User-defined for full user-control of hub diameters.
SAE and Metric shaft rules to automatically set shaft-diameter and taper from the specified nominal shaft diameter.
Estimate for hub position based on blade extents.
Estimate maximum fillet radius.
New supplemental tools, including Transformations, BladeScan, and ScanConverter
New point-cloud ScanConverter for reverse engineering 3D scans.
New CPP spindle transformation for rotating the blade through different pitch positions.
New pitch-plane transformation for calculating equivalent propeller geometry.
Blade interference check for CPP operating in ducts or tunnels.
BladeScan utility for determining which series outline is the closest match for a given chord distribution.
New CPP section report for reviewing pitch position effects on a single r/R position.
Improved 2D Drawings
Fillet outlines on 2D drawing of hub.
User-override of title block principle characteristics on 2D drawing.
User-defined title block principle characteristic on 2D drawing.